The latest manual provides a two volume approach to Building Regulations and their application – just what the industry needed, an easy but comprehensive guide.
2020 Manual to the Building Regulations – a code of practice for use in England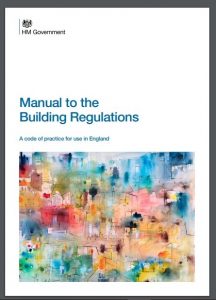 Introduction
This is a short manual on the Building Regulations, providing guidance on the Building Regulations system in England. Volume 1 of this manual gives a very high-level outline of how the Building Regulations system currently works. Volume 2 goes into more detail. The manual is only a summary. You should always rely on what is said in the legislation, rather than the guidance in this manual. You should think about what help you need with your project. There are professionals who can give you advice on your project. This can help you make sure that you comply with the Building Regulations.
Manual to the Building Regulations