WOBO recognises the need to reinvigorate construction and boost productivity.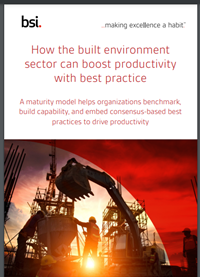 In its National Infrastructure Strategy, the UK Government set out to "deliver an infrastructure revolution: a radical improvement in the quality of the UK's infrastructure". Key to this is tackling Covid-19 recovery and building future resilience by boosting productivity, improving delivery and driving towards net zero emissions.
Lots of activity is already happening across the built environment sector to enable this transformation and to address pressing productivity challenges. Our whitepaper explores the key role of standards and best practice in this, including opportunities to drive industry collaboration, innovation and sustainability.
Who should download the whitepaper?