Structured development and networking are key elements of a professionals life.
Registration now open for FIREX 2023: "Bringing competency in fire safety to the forefront"
Registration is now open for the only fire safety event in the UK to make third-party product approvals a condition of exhibiting. FIREX, exclusively supported by the Fire Industry Association, is back at the ExCeL in London on 16-18 May 2023.
FSM is proud to be supporting The Fire Safety Event 2023. Don't miss out on the UK's highly anticipated and No.1 fire safety event – supporting professionals to achieve the highest standards of fire safety management!
Returning to the NEC Birmingham on 25-27 April 2023, The Fire Safety Event 2023 is set to be our BIGGEST and BEST show yet. We will be welcoming thousands of industry professionals to discover the latest fire safety products and solutions, hours of CPD accredited content of best practice and regulatory updates, and an abundance of networking opportunities.
Secure your FREE ticket today!  CLAIM YOUR FREE PASS
Webinar: how energy storage is the key to
ending Europe's energy dependence
[ February 7th at 11:00 UK / 12:00 CET ]
Due to Russia's invasion of Ukraine and the high cost of gas, Europe is suffering a major energy crisis. Consequently, the European Commission has developed REpowerEU, a program that aims to cut off the EU's dependance on Russian gas very quickly.
One of the options to build market resilience in the European markets is to build trans-national high voltage transmission lines that make it possible to carry power long distances to share renewable energy resource and limit curtailment. The cost of this plan is staggering and riddled in nymbism and permitting nightmares.
Energy storage is a better option to avoid curtailment and build grid resilience. This is why a group of pioneering companies have written an open letter to express the necessity of including more accurate energy storage targets. As it is, Europe cannot afford to curtail much needed renewable energy. In 2020 and 2021, the United Kingdom, a world-leader in offshore wind, curtailed enough energy to supply 800,000 homes a year.
Join this webinar and learn how energy storage can help Europe balance supply and demand of electricity to end energy dependence of fossil fuels.  Register here
HSM is proud to be supporting The Health & Safety Event 2023. The wait is over, The Health & Safety Event is back for an even bigger and better show. Taking place on 25 -27 April 2023 at the NEC Birmingham, join us for three packed days of H&S product and solutions discovery, CPD-accredited content and workshops, and countless opportunities for networking with your peers.
Register for your FREE PASS today and be part of the UK's LARGEST event dedicated to improving occupational health and safety standards.  CLAIM YOUR FREE PASS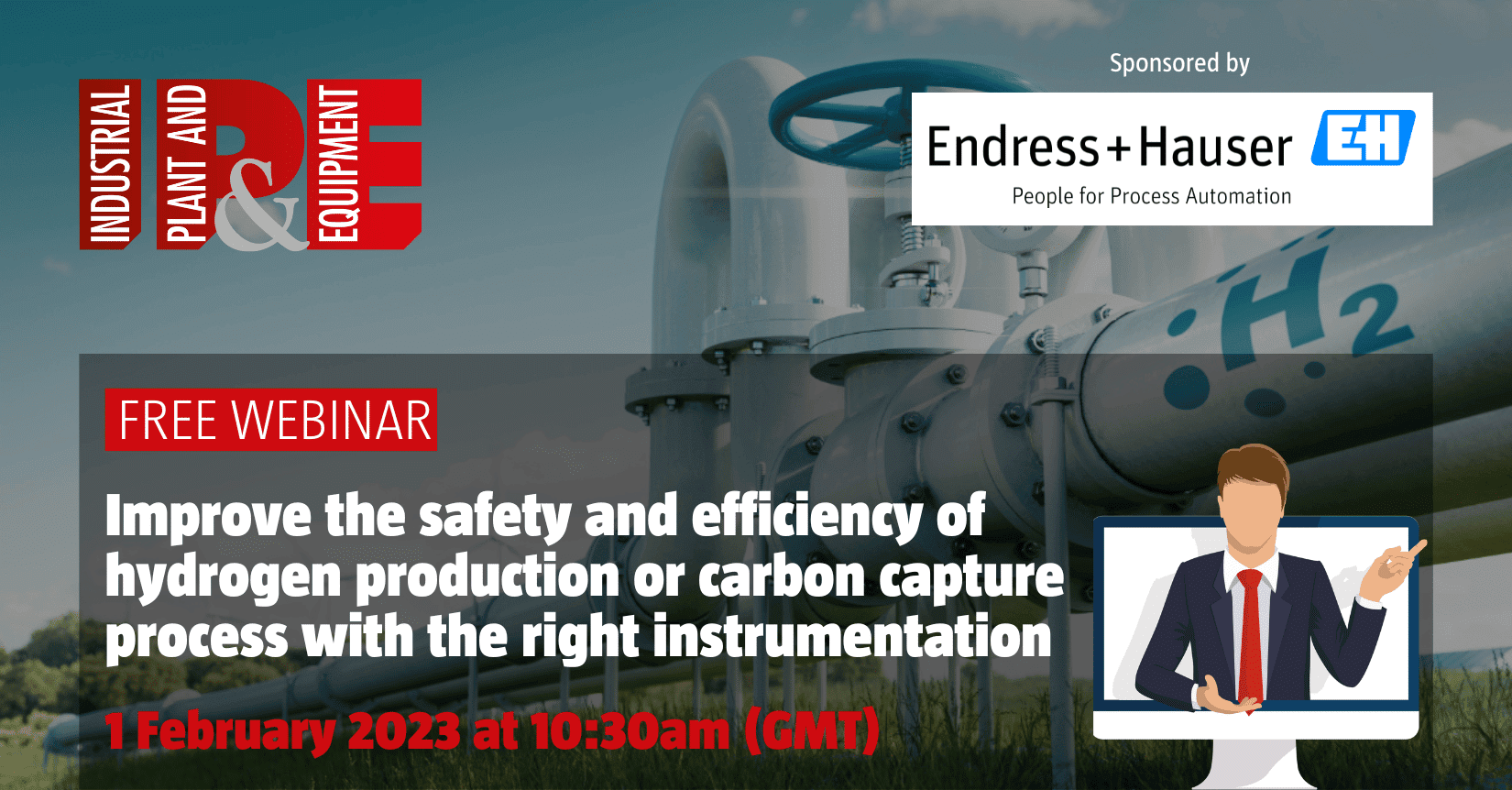 Join IP&E and Endress+Hauser on 1 February at 10.30am to get an insight into improving the safety and efficiency of hydrogen production or carbon capture process with the right instrumentation. 
Energy transition and decarbonisation are essential to achieve the ambitious climate target of net zero by the middle of the century. Investments to reduce emissions are accelerating the use of carbon capture and storage as well as the adoption of hydrogen as a preferred fuel source across multiple sectors.
In carbon capture and in the production of both blue and green hydrogen, instrumentation plays a critical role. The correct measurement technology delivers real-time information from the field, allowing tighter process control for safe and efficient operation of the plant.
Covering topics from post-combustion carbon capture plants in Norway to coke ovens in steel mills in Germany, Neil Jackson, Endress+Hauser's Oil & Gas Manager, will highlight real-world solutions such as blending control of hydrogen into natural gas and ensuring the quality of the feed water to electrolysers.
All attendees will receive CPD points.  REGISTER TO ATTEND