Dwellings, energy efficiency improvement – a move towards the retrofit plan.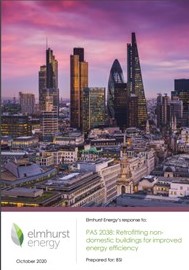 Many of you will know about PAS 2035, the domestic retrofit specification that was published by BSI, including direct from input from Elmhurst. It outlines the functions of Retrofit Assessors, Retrofit Coordinators and the need for a retrofit plan for all dwellings that are being considered for energy efficiency improvement. The PAS has now been adopted for the Energy Companies Obligation (ECO) policy and Government intend making it a requirement for all future initiatives, including elements of the Green Homes Grant. As a result, hundreds of domestic Retrofit Assessors and Retrofit Coordinators have now been trained.
BSI asked Elmhurst to solicit comments and views from Elmhurst members and collate them into one single submission. Elmhurst has submitted its response to BSI after seeking input and comment from members. We would like to thank all members that took time out of their busy schedules to contribute towards our survey and encourage anyone who hasn't done so already to submit their responses by the deadline.
We have summarised three key points below:
To acknowledge and include the role of existing accredited Non-Domestic Energy Assessors and DEC assessors, suitably upskilled to meet the extended requirements of PAS 2038
To encourage the use of SBEM, the Government's approved National Calculation Methodology (NCM), which is currently used for assessing the energy efficiency of non-domestic buildings.
To encourage the use of DECs – the Government's approved methodology for undertaking occupancy assessments and should be used instead of CIBSE TM54.
www.elmhurstenergy.co.uk/elmhurst-submits-response-to-draft-pas-2038-for-the-retrofit-of-non-domestic-buildings
You can read Elmhurst's and our members' response.