WOBO Governor David Gibson provides a reminder of changes in respect of accessibility in force on 1st January 2021.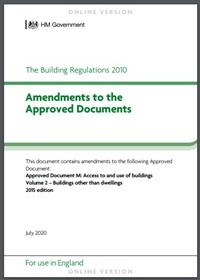 This document sets out amendments to guidance previously published in Approved Document M: Access to and use of Buildings Volume 2 – Buildings other than dwellings 2015 edition.
These amendments will be incorporated in the online version of Approved Document M Volume 2 in January 2021.
The changes highlighted in this amendment booklet take effect on 1 January 2021 for use in England