WOBO thanks IFSEC Global and Fire Safety Matters for the support they provide to our members and fellow professionals
Staircase provision?
THE ROYAL Institute of British Architects (RIBA), seven built environment bodies, fire safety organisations and disability rights groups have signed a joint letter to Michael Gove, the Secretary of State for Levelling Up, Housing and Communities, urging the Government to reduce the height threshold for new residential buildings with more than one staircase to 18 metres (approximately six storeys) from the currently proposed 30 metres (approximately ten storeys).
Such a move would implement what the coalition members believe to be Best Practice, improving safety for occupants and harmonising standards within the wider regulatory environment. This move would also align with rules in Scotland, where an additional staircase in new residential structures of 18 metres and higher has now been a requirement for four years.
Coalition calls for "bolder action" to make new residential buildings safer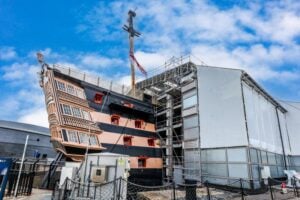 HMS Victory uses wireless fire detection as part of £35m renovation project
Launched in 1765, HMS Victory was Nelson's flagship at the Battle of Trafalgar, and is currently undergoing a 10-year programme of works to make her ship-shape for the next generation.
In 2022, as she celebrated 100 years in drydock in Portsmouth, Absolute Security Systems Ltd took design responsibility for the fire system that is providing cover within the temporary structure surrounding the ship, according to Hyfire.
This is being used to provide protection and access during the works, said the vendor, with allowance for members of the public to continue to visit HMS Victory, and also to view the works being carried out.
The fire system was installed and interfaced into the existing onboard fire system, to offer more flexibility for it to be repositioned to suit the ongoing progress of the refurbishment, which also involves replacing rotten planking from her hull with new oak, repairing Victory's structural framework, and finally fully re-rigging the historic flagship.
HMS Victory uses wireless fire detection as part of £35m renovation project
Read IFSEC Global's Annual Fire Safety Report for 2023, as we look at what's changed in the last year and what's on the horizon for the fire safety sector.
This year's report features all the top news and prosecutions stories from around the industry in 2022, as well as covering key legislation and new standards, such as the Fire Safety Regulations that came into force on 23 January 2023 and BS 8644-1.
After several years of waiting, industry now has two key pieces of legislation passed through parliament – so what does this progress mean? Legislation will not solve everything, so there is plenty more for the sector to still do.
Meanwhile, there are new challenges to tackle. We explore developing topics of debate, such as the impact of lithium-ion battery fires and how the sustainability and fire safety agendas can work together in the built environment.
All this and more is covered in this year's free and interactive eBook.
NEW EBOOK: IFSEC Global's Annual Fire Safety Report 2023