Health and safety are key elements of professional activities
Asbestos-disturbance-construction-firm-dock
Asbestos disturbance lands construction firm in the dock
Despite failing to attend Staffordshire Magistrates' Court on 24 August 2023, Esskay Construction Ltd was found guilty in its absence.
Nathan Cook, prosecuting on behalf of the Health and Safety Executive (HSE) told the court how the regulator received a concern on 31 August 2021 about asbestos disturbance. The concern related to a refurbishment project under the control of the company at an address in Brunswick Street in Hanley.
Representatives from the local authority had attended the site and discovered significant amounts of asbestos-containing debris to the front and rear of the building and along the public highway.
An inspector from HSE then went to site and served two Prohibition Notices – prohibiting all work within, and access to, 12 Brunswick Street and the surrounding area, other than by a licensed asbestos removal contractor for the purpose of making safe. A licensed asbestos removal contractor was then appointed to carry out a clean-up operation.
However, further investigation by HSE found that Esskay Construction Ltd had failed to appoint a competent person to carry out a refurbishment and demolition asbestos survey of the premises prior to carrying out work on site. The company then allowed refurbishment to commence without knowing where the asbestos containing materials were, resulting in them being disturbed and potentially exposing workers and members of the public to harmful asbestos fibres.
director-fined-obstructing-HSE-investigation
On 13 January 2022, Health and Safety Executive (HSE) inspectors visited a timber-frame housing development under construction off Brookwood Drive in Meir, Stoke-on-Trent by a company called Amro Construction Ltd.
At hearing at North Staffordshire Magistrates Court on 24 August, HSE enforcement lawyer Nathan Cook said that the regulator had identified several health and safety failings, including the presence of an open flame gas stove amongst large volumes of combustible material, a lack of fire precautions, poor site security and inadequate washing facilities.
HSE has guidance about fire safety in construction which can be found at:
Construction – Fire safety industry health & safety (hse.gov.uk).
Mr Cook went on to say that a HSE investigation found Amro Construction Ltd had also failed to assess the on and off-site fire risks, despite it being a timber-frame project in a highly residential area. This was despite previous advice and enforcement from HSE in relation to the matter. As a result, the company failed to implement measures to prevent a fire from occurring or spreading, putting workers and members of the public at risk. The investigation also found the company had received previous enforcement in relation to the provision of adequate washing facilities.
school-concrete-crisis-what-are-the-legal-ramifications-of-raac
Over 150 schools have now been identified as having Reinforced Autoclave Aerated Concrete (RAAC) in their buildings. Law firm Fieldfisher LLP offers legal advice on the ramifications.
Following the collapse of a concrete beam previously deemed low risk, many schools are closing all or part of their facilities delaying the start of the school term among fears they may be unsafe.
What is RAAC?
RAAC is a form of concrete which was used across public buildings from the 1950s until the mid-1990s. Made using a combination of cement, lime, water, and an aeration agent, RACC was cheaper and lighter than traditional concrete, while also being easier to produce and install during construction.
Part of the issue with RAAC is its limited durability and that internal corrosion and deterioration occurs without visible indication. Exposure to moisture can also cause structural failures. The Health and Safety Executive (HSE) has warned that all of the RAAC concrete used in the 1990s may collapse with little to no indication of there being issues.
The legal ramifications…follow the link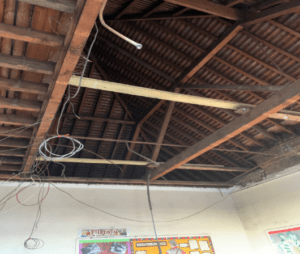 thurlow-educational-trust-fined-after-children-injured-by-classroom-ceiling-collapse
An educational trust has been fined after 15 schoolchildren and their teacher were injured when their classroom ceiling collapsed during a lesson.
Fifteen Year 3 pupils, aged between seven and eight, and their teacher had the ceiling collapse onto them at Rosemead Preparatory School in London, at around 9.30am on 15 November 2021. Tables and chairs being stored in the attic above were among the falling debris.
The children and teacher sustained upper limb fractures, cuts as well as concussion.