WOBO and it's members thank IFSEC GLOBAL for reinforcing a focus on fire safety and legislative change 
Flashpoint arson alert: Alarming rise in factory and industrial fire hazards
Hunter Seymour examines the issue of factory and industrial fires – with four incidents having taken place across one week in January alone. What is the context behind this growing problem? Why might new risk assessments be urgently required? And, how can fire professionals better protect premises from becoming another casualty to arson?  
Remarkably, in the space of one week this January, four serious factory fires were reported in England, with three of these industrial sites listed as 'disused' or 'derelict'. A sobering trend indeed, it would seem.
There has also been a rise in fires in the 'Industrial Premises' category according to the latest UK recorded figures. Meanwhile, the most recent trends for England and Wales reveal arson and criminal damage rose by 13% in the post-pandemic period recorded last year.
These outcomes are compounded by the exposure of industrial assets to a range of new potential fire hazards, extending from the impact of the Energy Crisis on factory shutdowns, decline in production with workforce layoffs, to the shortage of skilled labour and reduced preventive maintenance.
On a global scale, according to Resilinc Supply Chain Risk Management, of all the disruptive events tracked worldwide by the company's 'EventWatch' 24/7 global event monitoring service, factory fires are consistently the number one disruption to supply chain resilience. For risk management professionals, then, this changing threat demands commitment to renewed vigilant appraisal.
IFSEC Global's Annual Fire Safety Report 2023 – Is the industry ready to embrace a new safety culture?
Read IFSEC Global's Annual Fire Safety Report for 2023, as we look at what's changed in the last year and what's on the horizon for the fire safety sector.
This year's report features all the top news and prosecutions stories from around the industry in 2022, as well as covering key legislation and new standards, such as the Fire Safety Regulations that came into force on 23 January 2023 and BS 8644-1.
After several years of waiting, industry now has two key pieces of legislation passed through parliament – so what does this progress mean? Legislation will not solve everything, so there is plenty more for the sector to still do.
Meanwhile, there are new challenges to tackle. We explore developing topics of debate, such as the impact of lithium-ion battery fires and how the sustainability and fire safety agendas can work together in the built environment.
All this and more is covered in this year's free and interactive eBook.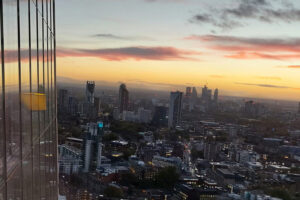 Positive change in the industry – "Individuals are now taking a proactive approach to fire protection"
While acknowledging there is still work to do to raise standards in the construction sector, Rebecca Croton, Content Marketing Executive at Quelfire, explores the positive change the passive fire protection company is already witnessing.
We often talk about why the industry needs to embrace cultural change and what it can do to facilitate this change. But with this, it is easy to forget to recognise the steps that have already been made in the right direction.
Therefore, we wanted to focus on some of the positive changes that have already taken place in the industry and to celebrate the successes of all parties, from architects to installers, in coming together with a newfound hunger to make a positive change to construction.
Construction is a tough job. But it's also a rewarding one. And there is plenty to be proud of!
The Building Safety Act
Although the Building Safety Act got off to a somewhat shaky start with the industry still trying to 'cut corners' and 'game the system', it is now starting to wake up and welcome the changes in legislation.
The Building Safety Act is bringing much needed change to construction for example, the introduction of the Gateway regime and the Golden Thread of Information. The Gateways (1,2 & 3) work to make sure that fire safety is considered from the design and build stage through to the completion and occupation of a building. They essentially ensure that a building is compliant.