The safety of people must be seen in a global context and it is rewarding to see publications linking global activities and the creation of understanding linked to the promotion of common standards and principles.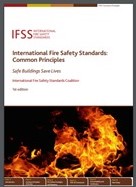 The International Fire Safety Standards Coalition (IFSSC)  are pleased to present the International Fire Safety Standards: Common Principles (IFSS-CP). The Coalition comprises organisations from around the world who have worked together positively, constructively and collaboratively to create a high-level
overarching performance framework based on Common Principles for fire safety engineering design, construction, occupation and ongoing management.
The overall objective of IFSS-CP is to prevent injury and death from fire in the built environment and minimise the impact on communities, society and the natural environment. They recognise that the past and current practices and application of fire safety standards across the globe would benefit significantly from consistency in terms of a set of Common Principles.
The complex interrelationships between fire and mankind transcend international borders and disciplinary boundaries. The science of fire knows no geographical or political limits. Over time they have learned fundamental fire safety principles for preventing fire events and managing their impact (i.e. the Common Principles: Prevention, Detection and Communication, Occupant Protection, Containment and Extinguishment) that can be consistently applied internationally. It is tragedy that has often compelled legislative changes – to continue in such a way is an abnegation of responsibility of first magnitude.
As the growth in global population drives towards greater urbanisation, more people are living in higher density, high-rise developments containing numerous uses and occupancy types. At the same time, our urban areas are encroaching on wildland spaces, creating increased areas of risk for wildland-urban and semi-urban interface fires.
New and emerging technologies pose electrical and other challenges that could initiate…..
https://ifss-coalition.org/wp-content/Consultation_Document-1.pdf