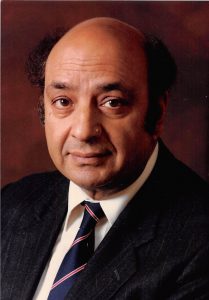 Omkar was the Founding President and is a Governor of WOBO.
He was the Chief Controller of Prosecutions, Law Department, City of Calgary, Canada 1977 – 1997
Omkar Nath Channan was passionate about establishing a world-wide organization that would leave legacy through the pursuit of its purpose, facilitate cooperation and coordination among member nations and promote global initiatives to the benefit of humanity.
He made a submission to the United Nations Non-Governmental Organizations on 24th February, 1987, and at its recommendation the Economic and Social Council of the United Nations, at its full regular session on 19th May, 1987, granted Category II Consultative Status (now known as Special Consultative Status) to the World Organization of Building Officials.
He was Public Member of the College of Medical Diagnostic, Therapeutic & Technologists Appointed under Health Professions Act of Alberta,  for a term of three years effective 2008.
A seasoned professional, he has held a breadth of positions with diverse responsibilities including being a Member of the Development Appeal Committee, and the Assessment Review Board of  Rocky View County.  He was Senator Emeritus for the University of Calgary and also currently the President, Calgary – Jaipur Development Foundation (Sister-cities of Canada and India).
Omkar has headed delegations to the Governing Council of the U.N. Centre for Human Settlements, UN-HABITAT.
He was the President, United Nations Association in Canada Calgary Branch, Regional Prairie Vice President, United Nations Association in Canada, (National Board).  Member of the Languages Committee of Olympics and Manager of the Language Services Committee of the Seventh World Police/Fire Games held in Calgary.
He was an International Consultant to the United Arab Emirates UAE Contractors Association, and was a Member of; the Standing Committee of the Associate Committee of the National Fire Code of Canada of the Canada National Research Council, the Architectural Advisory Committee of the Southern Alberta Institute of Technology and the International Business Committee of the Calgary Chamber of Commerce.
He was an Integral Member and Liaison for Calgary Chamber of Commerce Trade Mission to India and the CFCN TV Unit that filmed five series Focus on India and half an hour documentary entitled Rajasthan the Land of Kings
He is Vice President, Mental Health Law Association
The City of Calgary placed a plaque on Jaipur Bridge connecting Eau Claire Estate to Prince Island, downtown Calgary, in recognition of contributions made by Omkar Nath Channan and Maharaj (Prince) Jai Singh of Jaipur, India.
Omkar is an author of the Comprehensive Digest of East African Civil Law Reports 1896-1954: The Role of the Court Interpreter with a Foreword by The Right Hon. Lord Hailsham of St. Marylebone, P.C., C.H., former Chancellor of the British House of Lords and has presented papers at Conferences and World Congresses.
Omkar was the recipient of ;
Canada Governor-General's Medal
Queen Elizabeth's Golden Jublee Medal
Achievement Award from the Government of Alberta, Canada
Calgary Chamber of Commerce recognized for Outstanding Contribution
Peter Stone Award from the Chartered Association of Building Engineers of the United Kingdom
Award of Excellence from the United Arab Emirates Contractors' Association