WOBO thanks Renewable Energy for their news updates.
BLM Approves Advanced Rodatherm Geothermal Test Bed Project
The US Bureau of Land Management has approved the Rodatherm Geothermal Test Bed project, which would assess the commercial viability of an advanced geothermal electricity generation facility on BLM-managed lands in Beaver and Millard counties, Utah. Successful testing has the potential to support future commercial development, continuing the BLM's commitment to clean energy development on US public lands.
Avangrid's Vineyard Wind 1 Begins Wind Turbine Installation Campaign
Avangrid has started the wind turbine installation campaign for Avangrid's Vineyard Wind 1 project. The installation campaign follows the successful transportation earlier this week of the first GE Haliade-X Wind Turbine Generator (WTG) from the New Bedford Marine Commerce Terminal to the wind energy development area more than 30 miles off the coast of Cape Cod.
DNV awards AiP to HD KSOE's hydrogen system for liquefied hydrogen carrier
DNV has awarded an Approval in Principle (AiP) to HD Korea Shipbuilding & Offshore Engineering (HD KSOE) and its subsidiaries HD Hyundai Heavy Industry (HD HHI) and Hyundai Mipo Dockyard (HMD) for their new hydrogen system.
Barrio Eléctrico announces solar energy access to rural low-income homes in Puerto Rico
Barrio Eléctrico has announced the expansion of its community-powered residential solar services and a new regional office in the municipality of Coamo, with its low-cost electric service powered by reliable and resilient home solar and energy storage systems being available to more low- and moderate-income residents.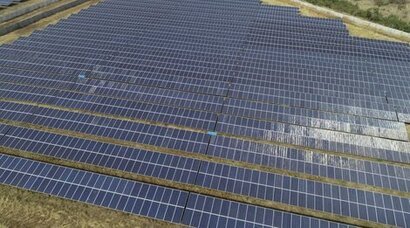 Cleantech Solar announces the commercial operation of its maiden VPPA in India
Provider of renewable energy solutions Cleantech Solar has announced the commercial operation of its maiden Virtual Power Purchase Agreement (VPPA), from an operating solar power plant in India with power being sold to the energy exchange.
The project has been registered under the International Renewable Energy Certificates (I-REC) mechanism, and the renewable attributes (in this case I-RECs) from this project are being purchased by a leading FMCG company under a virtual PPA. This is amongst the first operational VPPA plants in India.
The lifetime green energy generation from this project is approximately 187 GWh, which is akin to offsetting over 171 kilotonnes of carbon emissions. This agreement enables the client to support renewable energy development whilst reducing carbon emissions without directly integrating the solar project into their physical energy infrastructure.