WOBO thanks Renewable Energy for a sample of their Energy Updates
New Infrastructure Bill aims to improve delivery of renewable energy projects in Wales
A new bill laid before the Senedd, is aiming to modernise and simplify the processes behind developing infrastructure projects in Wales, improving the consenting regime in order to ensure timely delivery.
Climate Change Minister Julie James described the new Infrastructure (Wales) Bill as an 'important step' towards delivering on renewable energy targets as Wales moves towards net zero by 2050.
"This Bill introduces a modern and simplified regime for the consenting of significant infrastructure projects in Wales, both on the land and in the sea" said Ms James. "Having an efficient and effective consenting regime is vital to the timely delivery of important infrastructure projects in Wales that make a positive contribution towards our social, economic and environmental prosperity and net zero ambitions. As well as helping improve the competitiveness of Wales and position us as an attractive place for investment and jobs, it will offer our local communities the opportunity to engage in an open and transparent consenting process to help shape developments which affect them."
Ford opens Cologne EV Centre – first carbon neutral assembly plant
Ford has opened its first carbon neutral assembly plant in Cologne, Germany, the Cologne Electric Vehicle Centre, which will build Ford's new generation of electric passenger vehicles for millions of European customers.
World's First Mobile Biochar Production System Launched
At a recent biochar production demonstration in Harrisonburg, Virginia, Air Burners demonstrated the power and cost-efficiency of how the new CharBoss turns unwanted wood waste into biochar, a nutrient-rich byproduct you can sell or use to restore damaged soil. The patented, advanced technology is similar to the Air Burners trailer-mounted BurnBoss, a towable FireBox that cleanly and cost- effectively eliminates wood waste, including whole trees, stumps, and logs. Like the CharBoss, the BurnBoss is also ideal for forest management, wildfire mitigation, and land clearing operations.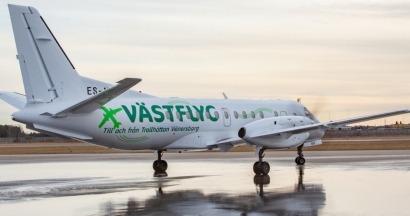 Neste Enables Trollhättan-Vänersborg Airport and Västflyg Airline to Be World's First to Use SAF on All Flights
Trollhättan-Vänersborg Airport in the southwestern part of Sweden, will be the first airport in the world to offer only blended sustainable aviation fuel (SAF) for all aircraft refueling at the airport, which will significantly reduce greenhouse gas (GHG) emissions of departing flights.
Neste will supply its Neste MY Sustainable Aviation Fuel™ to the Trollhättan airport in a 30-40% blend with conventional jet fuel and the airport will make it available for refueling by the end of June.
Västflyg, a Swedish commercial airline, will be the first airline powering all its flights with this fuel blend consisting of SAF. This includes regular routes between Trollhättan and Bromma as well as Trollhättan and Visby in Sweden and all its charter flights from Trollhättan.
Forget heat pumps – exploring the alternatives
Air source heat pumps are not the only solution to decarbonising the UK's heating. Plenty of other options may be more suitable for homeowners, but policymakers are ignoring these.
Not all homes are a good fit for this technology. Issues like poor insulation, cost, noise, and maintenance concerns make the heat pump option unappealing to many.
Several other zero-emission alternatives exist, like electric boilers, electric radiators, electric water heating systems, infrared radiators, and biomass heating. Each comes with its own set of benefits and potential challenges.
Five zero emission alternatives to heat pumps  
With net zero targets looming more significantly in the rearview mirror, air source heat pumps have been lauded as the main alternative to gas boilers. But despite offering a £5000 grant towards the installation cost, take up for the Boiler Upgrade Scheme has been muted.
The government aims to give out 30,000 vouchers annually but only managed 9,888 between the scheme's launch in May and the end of last year. So far, the annual air source heat pump installation is under 40,000. The government's target to install 600,000 a year by 2028 seems optimistic at best.
Caltech's Space Solar Power Demonstrator Wirelessly Transmits Power in Space
A space solar power prototype that was launched into orbit in January is operational and has demonstrated its ability to wirelessly transmit power in space and to beam detectable power to Earth for the first time.
Wireless power transfer was demonstrated by MAPLE, one of three key technologies being tested by the Space Solar Power Demonstrator (SSPD-1), the first space-borne prototype from Caltech's Space Solar Power Project (SSPP). SSPP aims to harvest solar power in space and transmit it to the Earth's surface.
MAPLE, short for Microwave Array for Power-transfer Low-orbit Experiment and one of the three key experiments within SSPD-1, consists of an array of flexible lightweight microwave power transmitters driven by custom electronic chips that were built using low-cost silicon technologies. It uses the array of transmitters to beam the energy to desired locations. For SSPP to be feasible, energy transmission arrays will need to be lightweight to minimize the amount of fuel needed to send them to space, flexible so they can fold up into a package that can be transported in a rocket, and a low-cost technology overall.