WOBO notes the sample of global activities identified by Renewable Energy
Companies Team Up to Produce Green Hydrogen With Power from Wind Farms
Lhyfe and Capital Energy have signed a collaboration agreement for the joint development of offshore renewable hydrogen projects in Spain and Portugal. Lhyfe is a pioneer in green and renewable hydrogen production and a pioneer in offshore hydrogen production projects, Capital Energy is a Spanish energy producer and distributor founded over twenty years ago and which aspires to become the first 100% renewable vertically integrated energy operator on the Iberian Peninsula.
Read more: renewableenergymagazine.com/panorama/companies-team-up
Octopus Energy and RES to build wind farm on disused US air station
Octopus Energy's generation arm – who manage £6 billion worth of renewable assets and energy transition projects globally – are to build a new 11.4 MW wind farm on a disused site of a former US air station near Prüm in west Germany, close to the Luxembourg and Belgium border.
The new wind farm consists of two large Nordex turbines and will produce enough energy for 13,500 homes, the equivalent to planting 100,000 trees, or taking 110,000 petrol cars off the road. Construction has already started and it will become operational in 2024.
Octopus entered Germany's renewable generation market last June. It now manages over 100 MW of onshore wind farm projects across the country, which will generate enough clean power for 100,000 homes.
US DOE Funds Synhelion to Scale Up Solar Thermal Hydrogen
A joint project of Synhelion and its partner, University of Florida, has been awarded $2.7 million from the U.S. Department of Energy Solar Energy Technologies Office (SETO). The project aims to accelerate the large-scale development and deployment of concentrating solar thermal power (CSP) technology to produce green hydrogen for industrial decarbonization and electric power generation and storage.
Read more : .renewableenergymagazine.com/panorama
Europe to add over 43 million heat pumps by 2030, providing heat to half its buildings
New projections from the European Heat Pump Association (EHPA) reveal that European countries will be able to add around 43.2 million heating and hot water pumps in the next eight years, on top of the current 20 million installed.
The total heat pump stock will be close to 60 million units (since some of the 'new' heat pumps will be replacing older ones) by the end of 2030. These will provide about half of Europe's buildings with renewable heating. They will also provide renewable cooling.
The calculations are based on aggregated expert guidance from EHPA's national member associations.
The number of Europeans benefitting from clean heat could even be higher, as heat pumps in district heating are seeing a steep increase in demand, but current statistics do not yet properly reflect their value. The increase in heat pumps by 2030 will also bring stability to Europe's electric grid and contribute to cleaner air for all Europeans.
Read more : renewableenergymagazine.com/miscellaneous/europe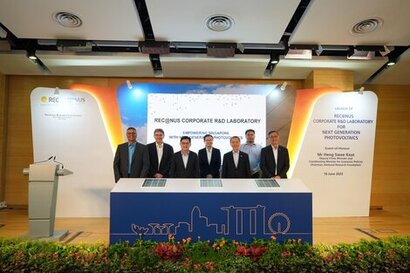 A new S$77 million research initiative has been launched last Friday at the National University of Singapore (NUS) to boost innovation and research on advanced solar cell technologies in Singapore.
Over the next five years, the REC@NUS Corporate R&D Laboratory for Next Generation Photovoltaics (REC@NUS Corp Lab), which has been jointly established by the Solar Energy Research Institute of Singapore (SERIS) at NUS and REC Solar (REC), will research, develop, and commercialise disruptive solar photovoltaic (PV) technologies based on perovskite-silicon tandem solar cells.
Supported by Singapore's Research, Innovation and Enterprise (RIE) 2025 Plan, this strategic investment in high-power clean energy solutions is crucial in accelerating Singapore's transition to renewable energy for a greener future, and maintaining the nation's leading position in PV R&D and manufacturing.
Read more: renewableenergymagazine.com/pv_solar/