WOBO thanks Peter Baker, Chief Inspector of Buildings for his update in respect of high rise residential buildings.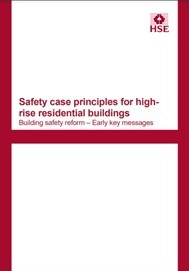 The Building Safety Bill is making its way through Parliament. As it passes, we will get a clearer idea of what it might mean to the building safety reforms. We will share information as we learn more.
The Building Safety Bill has now been introduced in Parliament. It proposes changes to building safety law that will place new duties on those who are responsible for the safety of high-rise residential buildings in England. These are buildings that are seven storeys or more, or 18 metres and above in height.
Fires and serious structural incidents in these buildings are rare, but when they do happen the consequences can be catastrophic for many people, their homes and communities. The Bill proposes a proportionate, risk-based and systematic approach to prevent and reduce the severity of serious incidents and ensure safer buildings.
A key element of the proposed changes is that high-rise residential buildings will need a safety case when they are occupied. It will complement existing building and fire safety legislation, and require those responsible to think critically about the potential fire and structural hazards in their buildings, and show how they are keeping their buildings safe.
Safety cases will be a new concept to many of those involved. We've been working with a group of early industry adopters and other housing providers to provide some insights to help those who may have new roles to prepare for the changes and better understand what a safety case is.
Safety case principles for high-rise residential buildings (PDF) provides early support on taking sensible, risk-based steps to keep people safe in and around buildings. It will also help residents, developers, and others with how safety cases can ensure building safety. More material will follow to reflect the new legislation as it emerges.
I am grateful for the help and input of the early adopter organisations, trial participants, members of the Joint Regulators' Group and the Ministry of Housing, Communities and Local Government.
We would also like to hear feedback and examples of good practice from anyone who may have a potential role in safety cases. This will make sure that future advice meets the needs of everyone involved.
Peter Baker, Chief Inspector of Buildings
Read the document
Safety case principles for high-rise residential buildings (PDF)