The Scottish Government have published their response to the Grenfell Inquiry Phase 1 Report. You can view it here https://bit.ly/3kGEgr0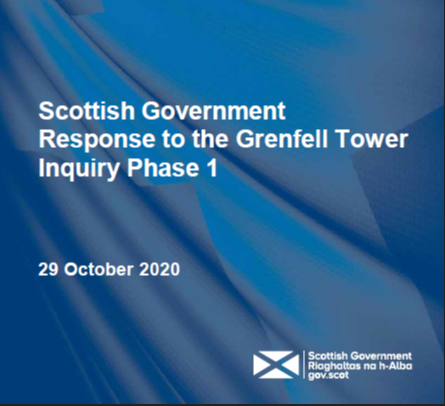 Scottish Government response to the Grenfell Tower Inquiry Phase 1 recommendations produced for Scottish Ministers by the Scottish Government Grenfell Inquiry Fire Safety Working Group (GIFSWG ).
On 14 June 2017 a fire broke out in Grenfell Tower which led to the deaths of 72 people. On 15 June 2017 the Prime Minister at the time, Theresa May, announced that there would be a formal Inquiry into the tragedy. The Inquiry, Chaired by Sir Martin Moore-Bick, opened on 14 September 2017 and has two distinct phases. The Inquiry reports its findings to the Prime Minister of the UK Government.
This report is the Scottish Government response to the Grenfell Tower Inquiry Phase 1 [1] recommendations.  This response was produced for Scottish Ministers by the Scottish Government Grenfell Inquiry Fire Safety Working Group (GIFSWG)