WOBO has been informed that the UK government's landmark legislation to transform the environment has returned to Parliament after a pause due to the coronavirus outbreak.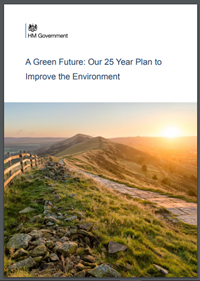 The Environment Bill sets out a comprehensive and world-leading vision to "allow our environment to prosper for future generations and ensure that we maintain and enhance our environmental protections".
Environment Minister Rebecca Pow said:
"Protecting and enhancing our environment is a priority for this Government, especially as we strive to build back greener from the coronavirus pandemic. The Environment Bill is one of the most important pieces of legislation for a generation, and it's essential that we complete its passage into law as soon as possible so that we can continue our work to transform society and improve our air, water and nature."
A Green Future: Our 25 Year Plan to Improve the Environment', sets out what we will do to improve the environment, within a generation.
Our natural environment is our most precious inheritance. The United Kingdom is blessed with a wonderful variety of natural landscapes and habitats and our 25 Year Environment Plan sets out our comprehensive and long-term approach to protecting and enhancing them in England for the next generation.
Its goals are simple: cleaner air and water; plants and animals which are thriving; and a cleaner, greener country for us all. We have already taken huge strides to improve environmental protections, from banning microbeads which harm our marine life to improving the quality of the air we breathe to
improving standards of animal welfare.
This plan sets out the further action we will take. By using our land more sustainably and creating new habitats for wildlife, including by planting more trees, we can arrest the decline in native species and
improve our biodiversity. By tackling the scourge of waste plastic we can make our oceans cleaner and healthier. Connecting more people with the environment will promote greater well-being. And by
making the most of emerging technologies, we can build a cleaner, greener country and reap the economic rewards of the clean growth revolution.