The UK Construction Industry is likely to experience significant changes during 2021 in terms of skills, roles and responsibilities, and the CITB have set out their plans and proposed actions in respect of training and development in the CITB Strategic Plan 2021 – 25.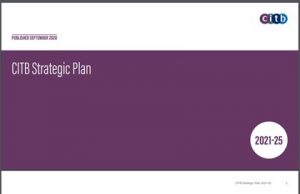 The CITB Strategic Plan sets out what they believe are the key skills challenges for construction over the next four years and what they will do to address them.
Employing over 2.7 million people and contributing 8%
of output, construction is central to the economy. It is also
a key part of Government plans to modernise our
infrastructure, build more homes and level up the economy.
Construction has a massive impact on the performance of the wider economy; for every £1 spent on construction output, an additional £2.84 of total economic activity is generated.
To thrive, it needs an ongoing supply of skills to meet the breadth and depth of what needs to be delivered in the next four years, from major infrastructure such as High Speed 2 (HS2) to ambitious plans to increase and modernise our housing stock and get to a net zero carbon position as fast as we can in both new build and retrofit.
These demands are also placed at a time of great social and economic flux, and against the challenges posed by the recovery from the pandemic, which is likely to lead to fundamental change in the labour market, in how construction operates and how training is delivered. These also create the opportunity for the industry to reshape itself with support from CITB to ensure it can access the skills it needs.